By: JR BOUCICAUT – Owner/Founder of MODSQUADHOCKEY
We at MSH have always strived to deliver a great product for our event attendees, and when we weren't satisfied with the last jersey manufacturer we used, we went and started to contact several jersey manufacturers to see what they can offer us.
@IPv6Freely had mentioned to me that he had spoken to 5ivehole when he was sourcing out jerseys for his team, but went with another brand. I decided to contact them, and found out that they were somewhat local to me, and so we decided to meet up for lunch and discuss their product.
Charlie was awesome to talk to and I felt at the time that they checked off all of the boxes of things I was looking for; well-made jerseys, good materials and attention to detail. The fact that he was somewhat local was an added bonus.
From there, he sent me their jersey template and I designed the jersey. @McDougalfaschnitzer had refreshed the SummerJam logo and at the time, indicated that he wanted to do the same for the Winterfest logo. He completed it by the time I had finished the jerseys.
What we did next was something we had never done before; we allowed the Winterfest attendees to vote on the designs. We showed them 8 different color combinations, and they chose a white base versus a columbia blue base.
Once we nailed down the decision, I sent Charlie the designs and the logo. Typically, we have a "show" logo, which includes gradients and flashy colors, and an embroidery-friendly logo, which has been muted down for easier embroidery. The one I sent Charlie was the embroidery-friendly logo, as the crest was going to be embroidered. More on that later.
We chose their EliteKnit material, which is their dimpled, pro weight, moisture wicking material. We also went with their Swagger collar, which lays flat and is stretchy.
I had three requests; I wanted the silver stripe to be dazzle instead of EliteKnit, as I wanted it to pop a bit. I also asked to get the silver stripe on the collar to meet the silver stripe on the shoulders for continuity, and also asked if they could cut and sew their socks. 5ivehole typically sublimated their sock (which by the way, is the best hockey sock I've ever handled. 5ivehole makes uniforms for Red Bull Crashed Ice athletes and those guys require a heavy-duty sock.)
Some of the things he could do no problem (the dazzle stripe) but had never attempted the cut and sew socks or had someone ask him to do something silly as trying to get stripes to align. But the fact that he said that they will find a way to do it really impressed me. Once again, more on that later.
That all being said, here are our jerseys for the 14th Annual MSH Winterfest!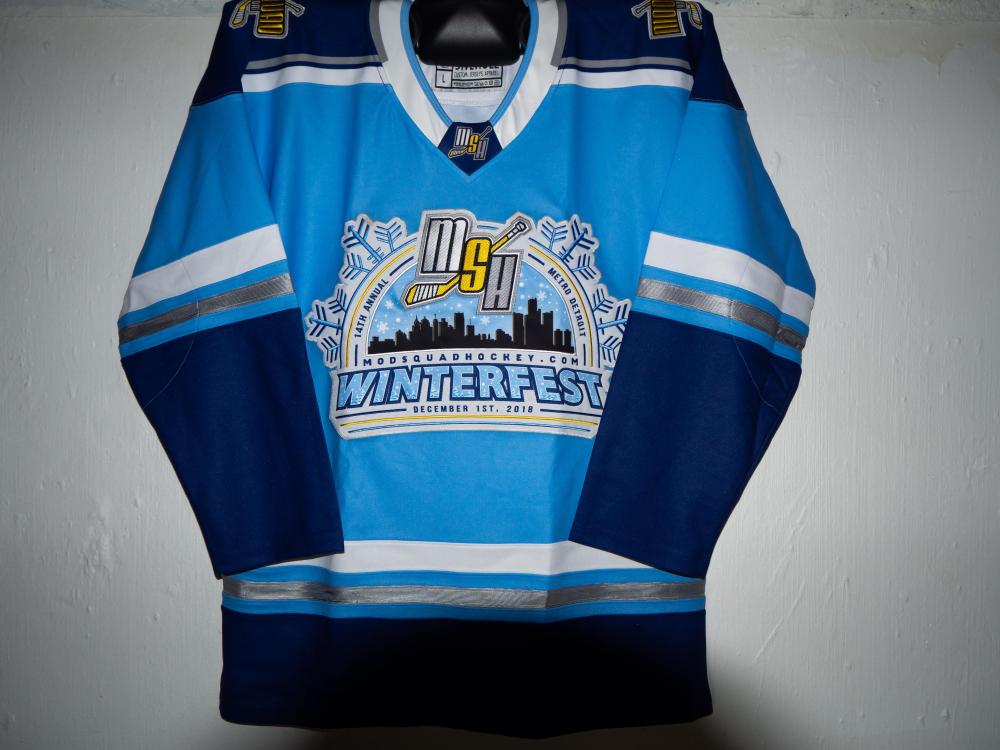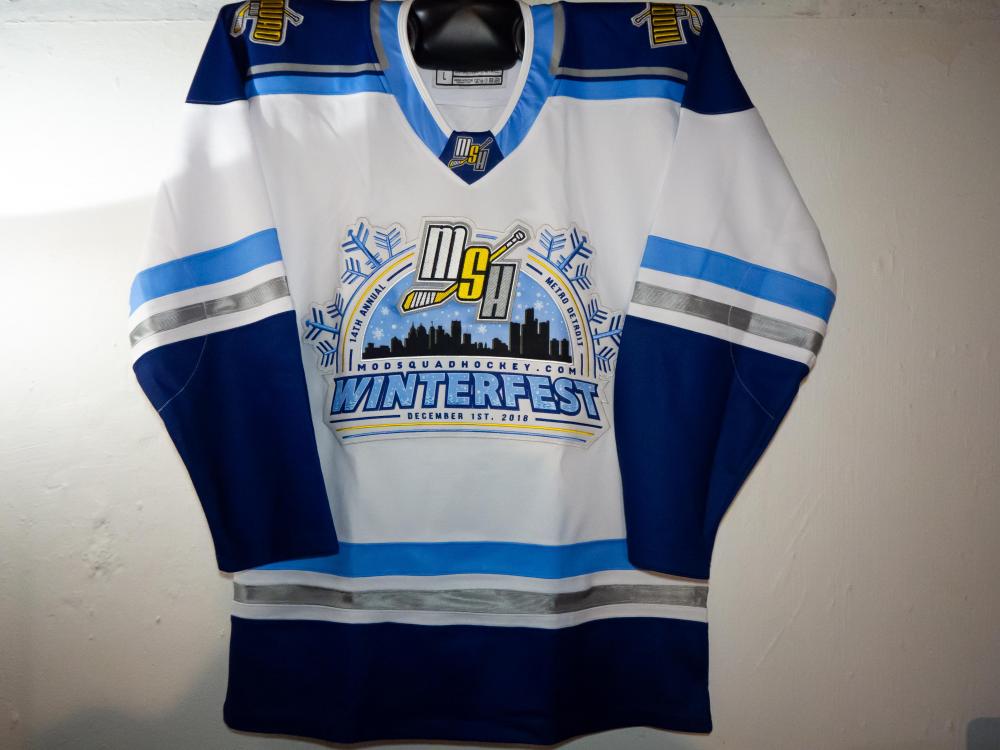 Here's the shoulder patch, a first for us: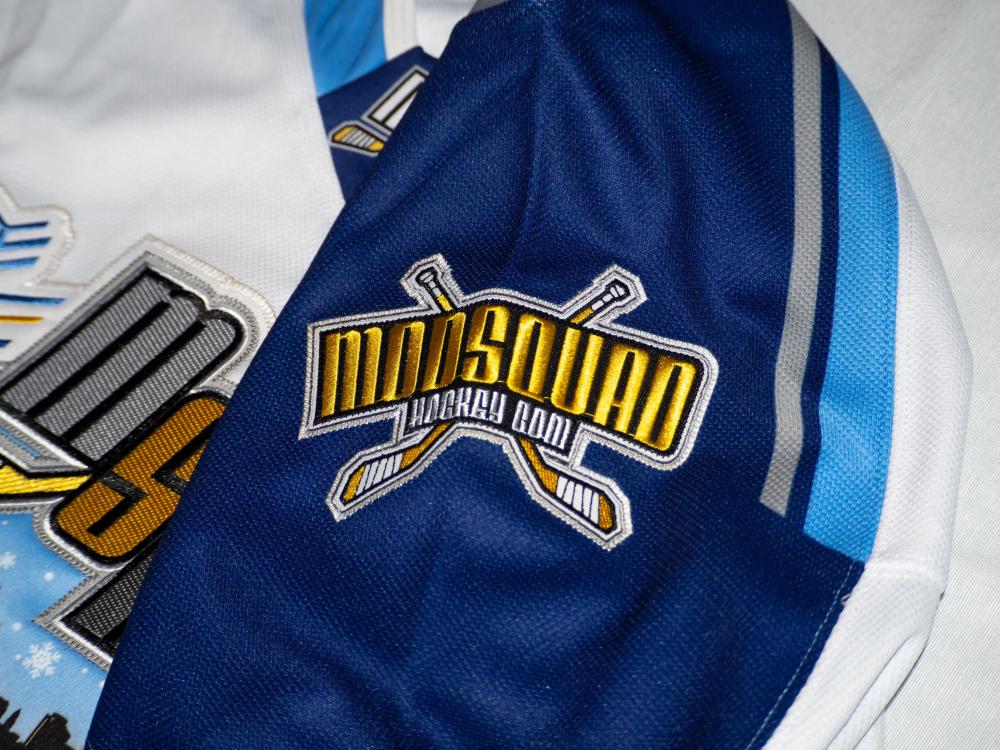 Remember that "more on that later" comment earlier?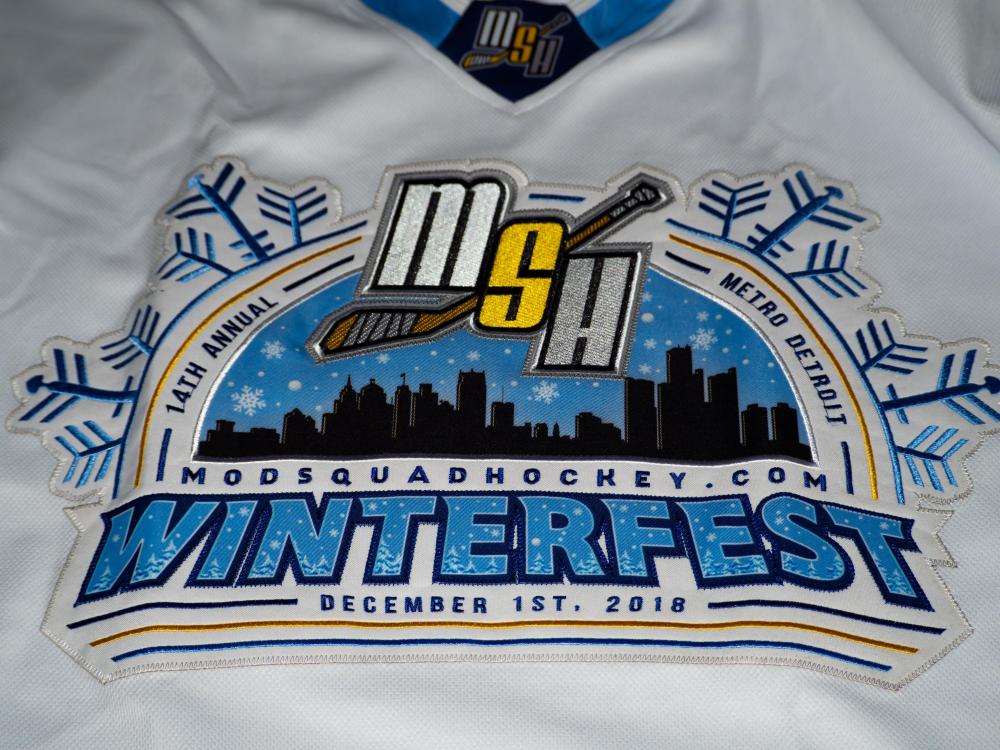 Charlie made an executive decision on the crest. They sublimated the snowglobe and the trees in the Winterfest word mark onto twill, cut it, then overlaid it into the crest.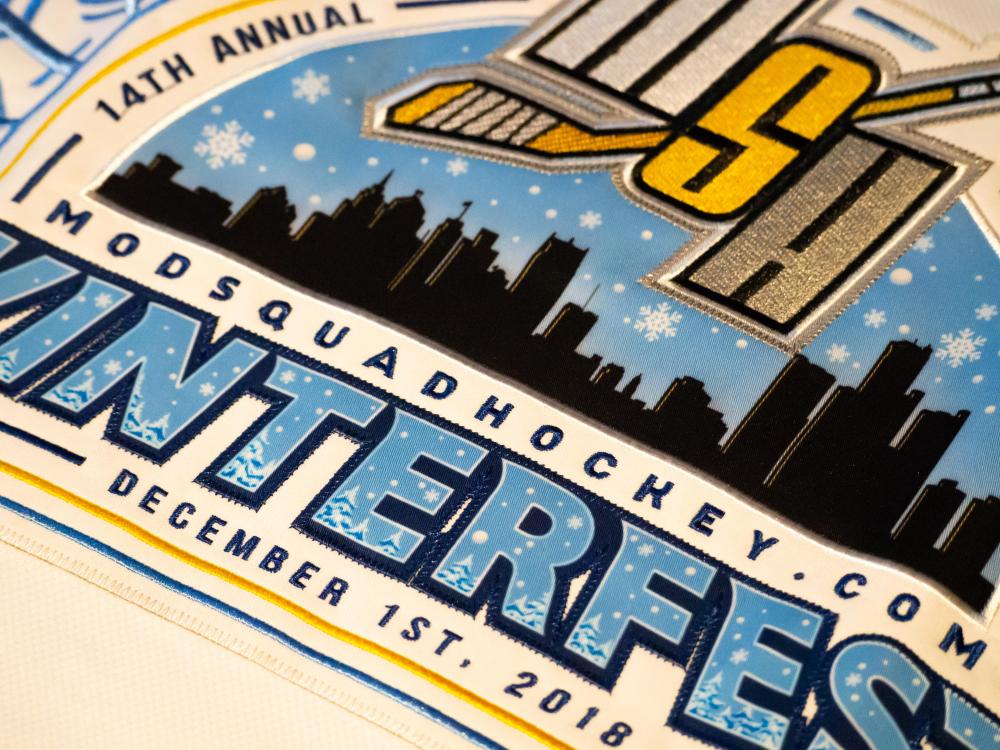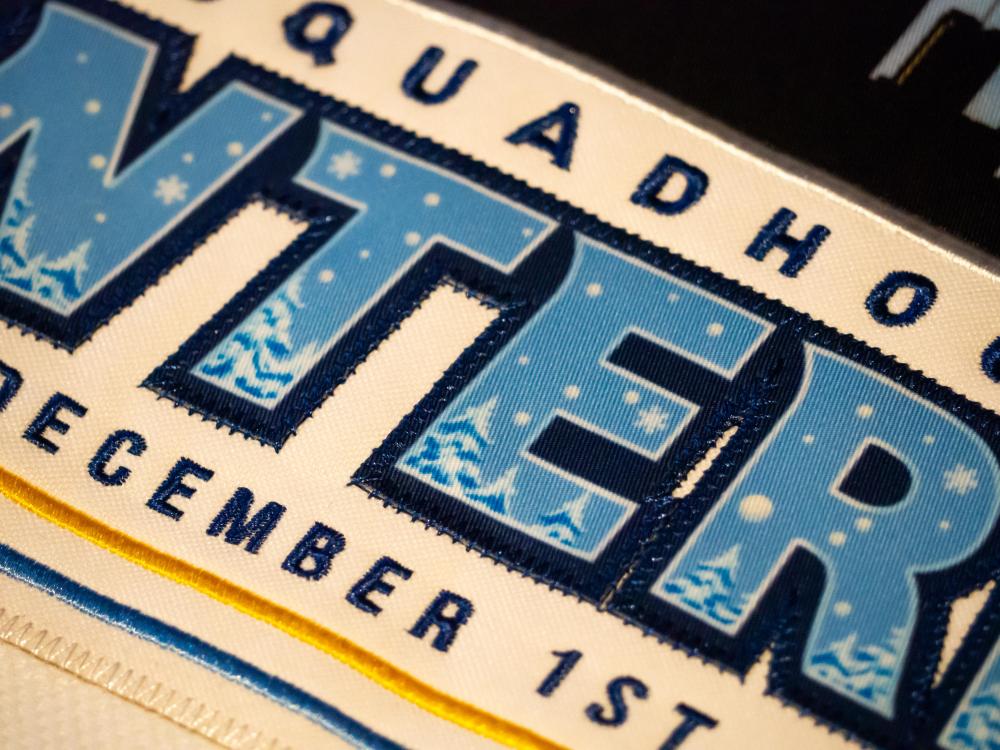 It looks absolutely awesome! I was blown away when the jerseys delivered; I didn't know they had that capability. Now we have the ability to use our "show" logo on crests!
Here is the uniform set, in all its glory.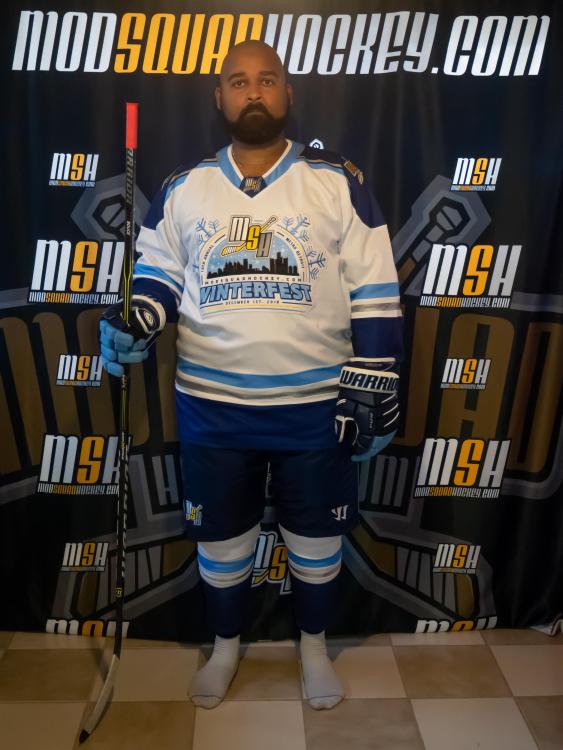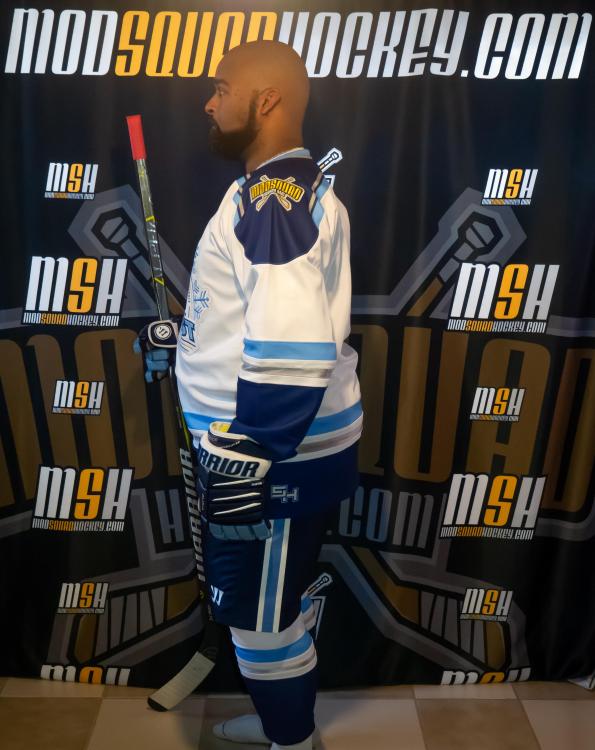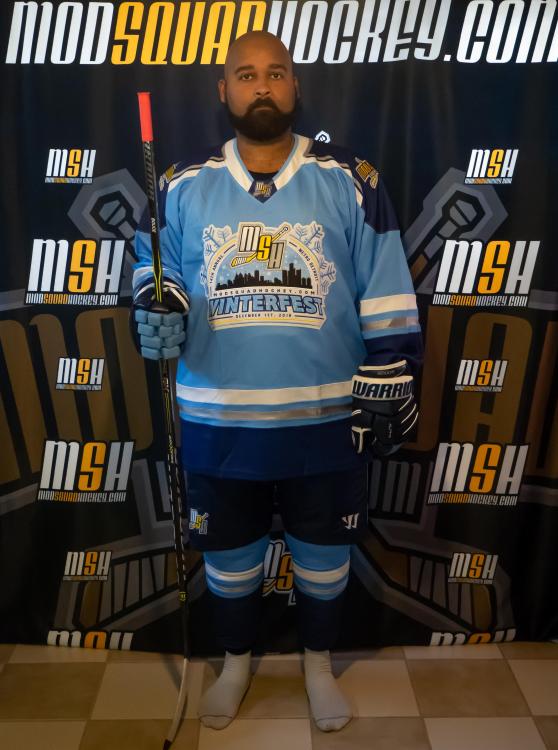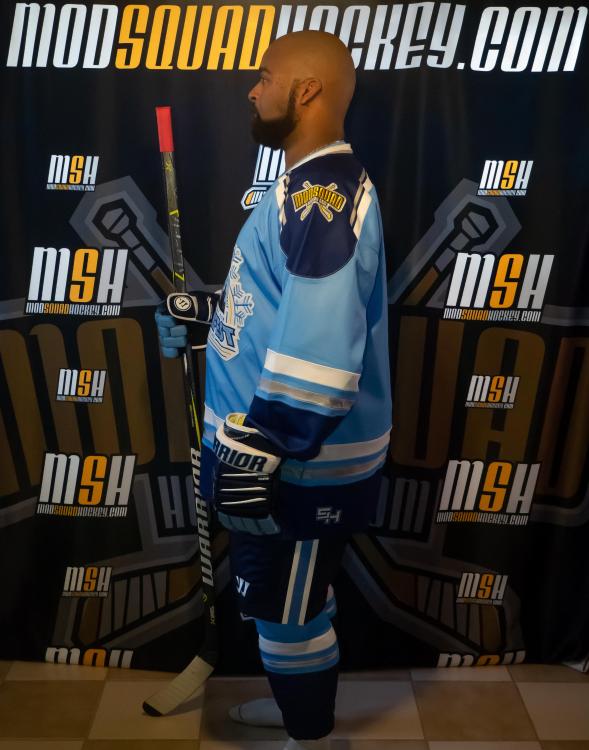 I can't thank Charlie and 5ivehole enough.  They were awesome to work with and exceeded all expectations that I had.  It's allowing us to be able to try different things to deliver a great product.  
Original article – http://modsquadhockey.com/forums/msh-articles/articles/winterfest-jerseys-r4/?fbclid=IwAR2Rp_kCi7vbMBoSairSHL6G_cB9bqpcP72BbfCa4KxVezmy2e86ERi7usQ